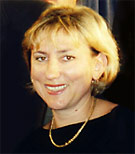 Principal Interpreter, Ludmila Lantsuta Davis
Mrs. Ludmila Lantsuta Davis is an Interpreter/Translator with more than twenty years of experience in simultaneous, consecutive, seminar, and court interpreting.
Her experience includes work as an independent contractor for the US State Department, Department of Defense, NICI conferences: International Emergency Management Systems, Peace Shield, U.S. Energy Agency, U.S. - Ukraine Foundation, and many more. In Europe her experience includes freelance Interpreting assignments for the EU institutions (EC and EP), NATO, OECD and private agencies.
She interpreted for the first gold medal winner, Ms. Mauer, during the Centennial Olympic Games in Atlanta, 1996, and was also an official Interpreter during the 1980 Olympic Games in Moscow, Russia. Her experience includes working with high-ranking officials of Ukraine and Russia. Also, she has served as an International Observer during re-election in Ukraine in December of 2004.
Prior to starting her own company in 1995, Mrs. Lantsuta Davis had worked as an independent Interpreter/Translator in the U.S., Republic of Panama, Russia, and Ukraine. During 1989-1990 she worked as an Official Interpreter for the Panamanian Government with the Government Delegation from Russia, during the International Trade Fair of the Ministry of Commerce and Industry of Panama.
Mrs. Lantsuta Davis earned her Masters Degree in Foreign Languages from Lviv National University with honors Magna Cum Laude and Master Degree Revalidation from National University of Panama, Rep. of Panama. Also, she holds a Conference Interpretation Certificate of Accomplishment from Cambridge University, UK.
She is member of ATA and AIIC candidate.